詳細資料
公司名稱:
黑沙公園葡國餐廳
Restaurante Parque Hac Sa /Norman's Pub
地址:
黑沙公園─路環黑沙海灘
Hac Sa Park, Hac Sa Beach,
Coloane Island
電話:
(853)28882297
網址:
http://www.yp.mo/hacsa
營業時間:
中午12:00 - 晚上11:00
享受夏日陽光的同時歡迎光臨位於全澳最大海灘旁的黑沙公園餐廳。我們為大家提供葡式烹調美食及地道燒烤。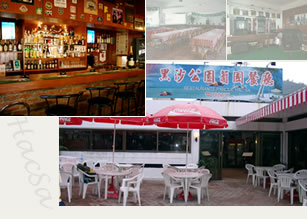 餐廳還可以為閣下提供各種型式宴會服務,豐儉由人。歡迎本澳各學校、社團、旅行社及公司預定自助餐、燒烤餐、旅行套餐,更可提供現場音樂表現,另外餐廳內附設英式酒吧(Norman's Pub),逢星期五晚歡樂時光,所有啤酒半價。
Enjoy the garden atmosphere at our restaurant located in Hac Sa Park at Macau's largest beach. We serve traditional Portuguese specialties and a great BBQ menu.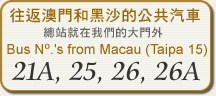 Perfect for parties of all sizes either outdoors or in our air-conditioned restaurant with menus to suit all budgets. Live music can be arranged for dancing.
Welcome for booking buffet, BBQ Package, tourist package for schools, associations and travel agencies. We can also provide Live Band Show.
Inside we have "Norman's Pub" - come and enjoy half price for all kinds of beer on Friday night happy hours.